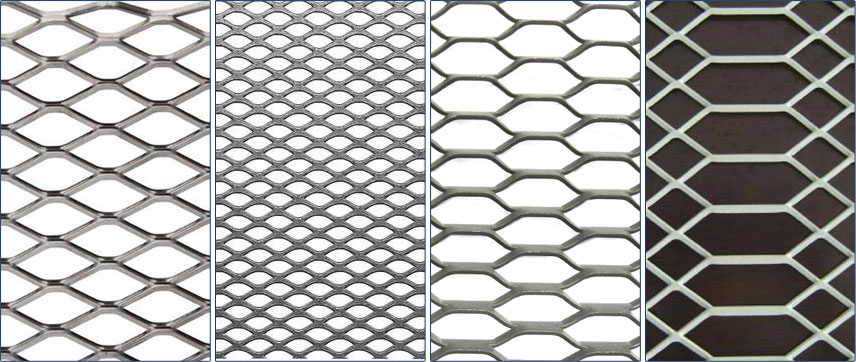 The expanded metal mesh also called expanded metal or expanded metal sheet, it is one of the most widely used metal wire mesh products. The expanded metal mesh is produced of whole metal sheet by punching and expanding process, the material of expanded metal mesh can be stainless steel, carbon steel, galvanized steel or aluminum. The mesh holes of expanded metal mesh is uniform, and the mesh structure is firm and stable, this makes the mesh achieve very high strength with light weight.
The expanded metal mesh has very wide applications, the standard grade can be used as mechanical equipment protection shell, handicraft manufacturing, speaker cover net, highway guardrail, green belt protection, etc. Heavy grade expanded metal mesh can be used as pedal net in heavy machinery and boiler, mine, locomotive and ship working platform. Also expanded mesh can be used in industry, railway, shipbuilding, coal, light industry, textile, building materials, agriculture and sideline industry, breeding industry, landscape, mineral, petrochemical, household appliances, and also used in integrated ceiling, doors and windows, security channel, corridor, stair baffle, tables, chairs, benches, vents, various cargo bearing frames, shelves, etc.
The expanded metal mesh size and plate thickness range is very wide, and there are various specifications available. The common range of plate thickness of expanded mesh that BZWIREMESH produced is from 0.5mm~6mm, and the opening size is from 3*6mm to 56*150mm, which can meet various application requirements from our clients.
Expanded Metal Mesh

Product Features:
●Uniform mesh holes and attractive outlook.
●Strong mesh structure without welding points.
●Expanded by whole metal plate, the weight is light.
●Very wide range of mesh holes and plate thickness.
The main parameters of expanded metal mesh are mesh width, mesh length, SWD*LWD, strand, plate thickness.

The commonly used material are stainless steel, carbon steel, galvanized steel, aluminum etc.
The normally used hole shapes are Diamond hole, Scalelike hole, Hexagonal hole and Complex type.
| | | | |
| --- | --- | --- | --- |
| | | | |
| Diamond hole | Scalelike hole | Hexagonal hole | Complex typ |
Following is the common specifications of expanded mesh(Diamond hole)

Common Specification of Expanded Metal
Plate Thickness
SWD
LWD
Strand
mm
mm
mm
mm
0.5
3
6


3.2
8
5
10
6
12.5
7
14
8
16
9
20
12
30
1.35
10
25
1.12
0.8
10
25
1.12
12
30
1.35
15
40
1.68
1
10
25
1.12
12
30
1.35
15
40
1.68
1.2
10
25
1.13
12
30
1.35
15
40
1.68
18
50
2.03
1.5
15
40
1.69
18
50
2.03
22
60
2.47
29
80
3.25
2
18
50
2.03
22
60
2.47
29
80
3.26
36
100
4.05
44
120
4.95
3
36
100
4.05
44
120
4.95
55
150
4.99
65
180
4.6
4
22
60
4.5
30
80
5
38
100
6
5
24
60
6
35
80
6
38
100
7
56
150
6
76
200
6
6
32
80
7
38
100
7
56
150
7
Other specifications can be

customized

according to clients' requirement
1. What are the benefits of expanded metal mesh?
Expanded mesh is a lightweight, versatile material with a higher strength-to-weight ratio than sheet metal. The process of expanding the metal from its solid sheet form actually strengthens the material. Because the mesh is made from a single piece of metal, further processing such as shearing or pressing is possible.
Expanded metal mesh reduces weight and metal, allowing light, liquid, sound and air to pass freely while providing a decorative or ornamental effect. Expanded metal is a cost-effective alternative to perforated metal since there is no metal loss during the expansion process.
Expanded metal products are ideal for non-slip surfaces. The attractive diamond pattern also makes expanded metal ideal for architectural designs.
2. What materials is expanded metal mesh made of?
There are many kinds of materials from which expanded metal mesh can be made. BZWIREMESH can provide aluminum expanded metal sheet, carbon steel, galvanized steel, nickel, silver, copper and stainless steel expanded metal sheet.
3. What are the main types of expanded metal mesh?
● Standard expanded metal mesh
Standard expanded or raised metal mesh is the finished product from a press after die cutting and expansion. It is an extremely versatile and economical product. It is available in your choice of material, gauge and opening size. Standard expanded metal sheets are ideal when a raised, non-slip surface is required. It is available in aluminium, carbon steel, galvanized steel or stainless steel, providing maximum flexibility to meet project requirements.
● Flat expanded metal mesh
Flattened expanded metal mesh is cold rolled through a machine that flattens the metal after the expansion process, ideal for architectural design trim applications that require flexibility while still maintaining maximum strength and durability. It is the best choice when a smooth surface is required. BZ wire mesh stocks flat expanded metal in a variety of metal materials, thicknesses and opening sizes.
4. How many surface treatment methods of expanded metal?
Expanded metal finishes and special treatments:
· Polished
· Carbon steel: lightly oiled, requires cleaning with an acid or solvent bath and rinse with water prior to final surface preparation
· Aluminum: Clean with a non-etching chemical or cleaner, then rinse and dry thoroughly
· Hot Dip Galvanized: A protective layer of zinc; may have a rough, uneven appearance. Not available for patterns smaller than 1/4"
· Electro-galvanized: Galvanized sheet to provide weather resistance
· Deburring: Remove burrs and sharp edges with a wire brush.
5. Why is open area percentage important for expanded metal?
The percentage of open area determines the amount of space available for air, water and light to pass through the expanded metal panels.
6. What to Consider When Customizing Expanded Metal Mesh?
Custom expanded metals come in a variety of patterns and can be manufactured in unique shapes and sizes. Materials that can be fabricated include aluminum, carbon steel, galvanized steel, and stainless steel. When choosing expanded metal mesh, users should consider several aspects such as material, opening size, and application. If they cannot determine the type and specifications of the product, they can decide to purchase after trying out samples. If you are looking for high quality expanded metal mesh from trusted supplier, welcome to contact us for more information!