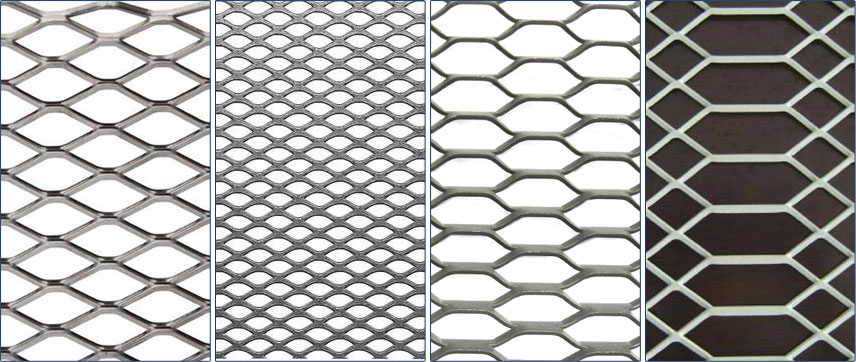 The expanded metal mesh also called expanded metal or expanded metal sheet, it is one of the most widely used metal wire mesh products. The expanded metal mesh is produced of whole metal sheet by punching and expanding process, the material of expanded metal mesh can be stainless steel, carbon steel, galvanized steel or aluminum. The mesh holes of expanded metal mesh is uniform, and the mesh structure is firm and stable, this makes the mesh achieve very high strength with light weight.
The expanded metal mesh has very wide applications, the standard grade can be used as mechanical equipment protection shell, handicraft manufacturing, speaker cover net, highway guardrail, green belt protection, etc. Heavy grade expanded metal mesh can be used as pedal net in heavy machinery and boiler, mine, locomotive and ship working platform. Also expanded mesh can be used in industry, railway, shipbuilding, coal, light industry, textile, building materials, agriculture and sideline industry, breeding industry, landscape, mineral, petrochemical, household appliances, and also used in integrated ceiling, doors and windows, security channel, corridor, stair baffle, tables, chairs, benches, vents, various cargo bearing frames, shelves, etc.
The expanded metal mesh size and plate thickness range is very wide, and there are various specifications available. The common range of plate thickness of expanded mesh that BZWIREMESH produced is from 0.5mm~6mm, and the opening size is from 3*6mm to 56*150mm, which can meet various application requirements from our clients.
Expanded Metal Mesh

Product Features:

●Uniform mesh holes and attractive outlook.

●Strong mesh structure without welding points.

●Expanded by whole metal plate, the weight is light.

●Very wide range of mesh holes and plate thickness.
The main parameters of expanded metal mesh are mesh width, mesh length, SWD*LWD, strand, plate thickness.

The commonly used material are stainless steel, carbon steel, galvanized steel, aluminum etc.
The normally used hole shapes are Diamond hole, Scalelike hole, Hexagonal hole and Complex type.
| | | | |
| --- | --- | --- | --- |
| | | | |
| Diamond hole | Scalelike hole | Hexagonal hole | Complex typ |
Following is the common specifications of expanded mesh(Diamond hole)

Common Specification of Expanded Metal
Plate Thickness
SWD
LWD
Strand
mm
mm
mm
mm
0.5
3
6


3.2
8
5
10
6
12.5
7
14
8
16
9
20
12
30
1.35
10
25
1.12
0.8
10
25
1.12
12
30
1.35
15
40
1.68
1
10
25
1.12
12
30
1.35
15
40
1.68
1.2
10
25
1.13
12
30
1.35
15
40
1.68
18
50
2.03
1.5
15
40
1.69
18
50
2.03
22
60
2.47
29
80
3.25
2
18
50
2.03
22
60
2.47
29
80
3.26
36
100
4.05
44
120
4.95
3
36
100
4.05
44
120
4.95
55
150
4.99
65
180
4.6
4
22
60
4.5
30
80
5
38
100
6
5
24
60
6
35
80
6
38
100
7
56
150
6
76
200
6
6
32
80
7
38
100
7
56
150
7
Other specifications can be

customized

according to clients' requirement