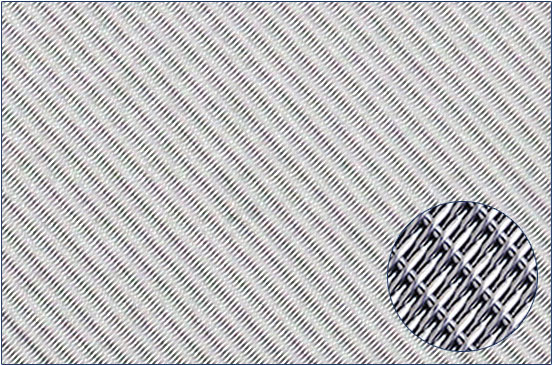 Stainless steel dutch woven mesh is a kind of stainless steel filter mesh with high filter accuracy, it is also one kind of stainless steel wire mesh widely used. The characteristic of stainless steel dutch woven mesh the wire diameter and mesh count in warp and weft directions. The weft wire is thinner with high mesh count, and the warp wire is thicker with low mesh count, the mesh hole shape shows rectangle. The weft wire of dutch woven mesh is weaved tight, the max mesh count can be 2800 and with filtration accuracy with 3μm.
Compared with stainless steel square hole mesh, dutch woven mesh is more thick and has better strength, higher filtration accuracy and longer service life. This is a very high filter accuracy which the square hole mesh can not achieve.
Stainless steel dutch woven mesh is widely used in precision pressure filter, fuel filter, vacuum filter, raw material for filter elements, aerospace, oil refining, medicine, sugar manufacturing, petroleum, chemical industry, chemical fiber, rubber, tire manufacturing, metallurgy, food, health research and other industries.
Product Features:
●Better structure strength and service time.
●Good mechanical properties.
●High filtration accuracy and stability.
●Good resistance of acid, alkali and corrison.
The main parameter of stainless steel dutch woven mesh are wire diameter, mesh count and filter accuracy. Because the wire diameter and mesh count of stainless steel dutch woven mesh is not at same in warp and weft direction, so the wire diameter normally showed as warp diameter*weft diameter, and the mesh count shows as warp count and weft count.
The common used material of stainless steel Dutch woven mesh are stainless steel wire: SS304, SS316, SS316L, Iron Wire, and Phosphor copper wire with Tin-plated. BZ Wire Mesh can also produce the dutch woven mesh in other material according to clients' requirements.
Stainless steel Dutch woven mesh has Plain Dutch Weave, Twilled Dutch Weave two types. Plain Dutch Weave used for low mesh count product, and Twilled Dutch Weave for high mesh count products.
| | |
| --- | --- |
| | |
| Plain Dutch Weave | Twilled Dutch Weave |
Dutch Woven Wire Mesh (Plain Weave)
Gauge
Mesh Count
Wire Diameter(mm)
Filtration accuracy (μm)
40
10x64
0.55x0.42
260
50
12x75
0.45x0.35
220
80
24x110
0.35x0.25
160
100
25x140
0.28x0.20
100
120
30x150
0.25x0.18
80
140
35x180
0.20x0.16
70
160
40x200
0.18x0.13
60
180
45x220
0.16x0.12
56
200
50x250
0.15x0.11
50
240
60x300
0.14x0.09
45
260
65x320
0.13x0.08
36
280
70x400
0.125x0.07
34
300
80x700
0.11x0.039
32
Dutch Woven Wire Mesh (Twilled Weave)
Gauge
Mesh Count
Wire Diameter(mm)
Filtration accuracy (μm)
80II
20x250
0.28x0.2
38
120II
30x300
0.25x0.18
36
200II
50x500
0.14x0.11
34
320I
80x700
0.11x0.08
32
320II
80x780
0.10x0.07
30
360
90x780
0.10x0.07
25
400I
100x780
0.10x0.07
22
400II
100x900
0.10x0.063
20
500
120x1100
0.07x0.05
17
630
150x1400
0.063x0.04
16
650
180x1800
0.07x0.04
14
685
165x1400
0.063x0.032
13
795I
200x1400
0.07x0.04
12
795II
200x1800
0.05x0.032
10
850
2l0x1900
0.045x0.03
10
1000
250x2000
0.045x0.028
8
1125
280x2200
0.036x0.026
7
1225
300x2200
0.036x0.026
6
1280
325x2300
0.035x0.025
5
1600
400x2800
0.03x0.018
3
The reversed dutch weave mesh is a special type of dutch woven mesh, the weft wire is thicker than warp wire. The common roll length of reversed dutch weave mesh is 10m, with from 40mm to 210mm, and the max width can be produced is 500mm, mesh count range from 40~350.
| | |
| --- | --- |
| | |
| Reversed Plain Dutch Weave | Reversed Twilled Dutch Weave |
Reversed Dutch Woven Wire Mesh
Mesh/Inch
Wire Diameter/mm
Thickness(mm)
Width(cm)
45x15
0.45x0.6
1.75
4-21
72x15
0.45x0.55
1.7
4-21
120x16
0.35x0.45
1.36
4-21
132x17
0.3x0.45
1.3
4-21
152x24
0.3x0.40
1.2
4-21
160x18
0.28x0.45
1.27
4-21
200x40
0.15x0.27
0.7
4-21
260x40
0.15 x0.27
0.65
4-21
300x40
0.15 x0.27
0.65
4-21
350x40
0.13 x0.27
0.6
4-21