Introduction of Architectural Woven Wire Mesh

---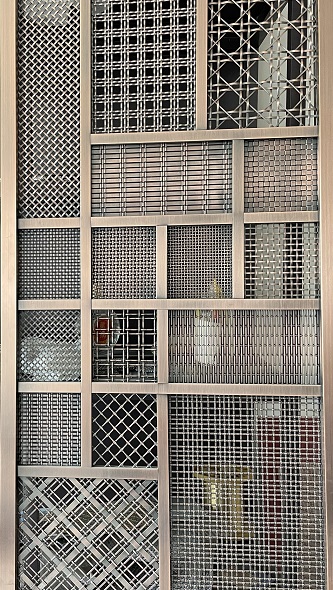 Woven Wire Mesh is a common type of wire mesh. It is usually made of metal wire, rod, flat bars or steel wire rope and processed by wire mesh weaving machine. Woven wire mesh can be used in a wide range of fields, not only for filtration and screening, but also for protection and decoration. In order to distinguish it from ordinary woven wire mesh, we call the woven wire mesh specially used in the field of architectural decoration as Architectural Woven Wire Mesh.
As a distinctive high-quality Decorative Wire Mesh, Architectural woven wire mesh is one of the most popular decorative interior metal products. By changing the woven method and material, the mesh can be made into various of patterns, and the decorative effects are also varied.The architectural woven mesh panels are mainly used for the decoration of facades, windows, walls, elevators, also can be the material for making partitions, ceilings, closets, handrail infills and glass interlayers. Anyway, credit to the various of patterns and wide usages, the architectural woven mesh panels is a ideal architectural decorative material.
BZWIREMESH has been producing Architectural Wire Mesh since its establishment in 1998. We offer a variety of materials for construction wire mesh such as stainless steel, aluminum, brass, copper, phosphor bronze and other high quality alloy materials. In addition, we offer a variety of styles to meet customer needs.
Architectural woven metal mesh used for interiors is usually made of brass, a metal that not only has its own natural beauty but is also suitable for coloring in many ways. Coloring and electroplating processes enhance the elegant and timeless form of decorative stencils. Architectural woven mesh can also be made of aluminum or stainless steel. Stainless steel is the strongest of the standard woven mesh materials.
BZWIREMESH provides hundreds of styles of architectural mesh panels, our products are not limited to these styles, if you want to customize, please contact us, you can also send design drawings, we produce according to your drawings.