The Introduction for Welded Wire Mesh Fence Panels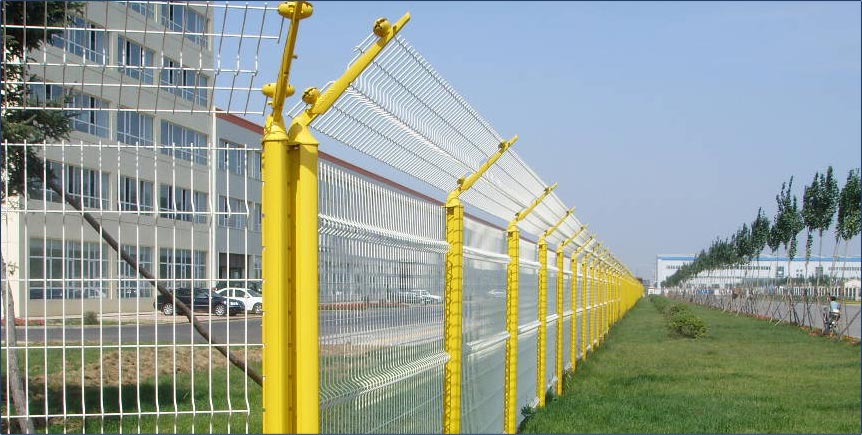 Welded Wire Mesh Fence Panels
Welded wire mesh fence panels, also called wire mesh fence or welded fence is a commonly used fence products. Welded wire mesh fence panels has the advantages of good strength, beautiful appearance, low cost and convenient for installation. Welded wire mesh fence panels is normally produced of carbon steel wire or galvanized wire by welding process. And covered with PVC coating as protection, can give the wire mesh fence very good weather ability.
Product Features:
●Beautiful outlook
●Low Price with High Quality
●Easy for Installation
●Long Service-life
Main Parameter and Common Specifications of Welded Wire Mesh Fence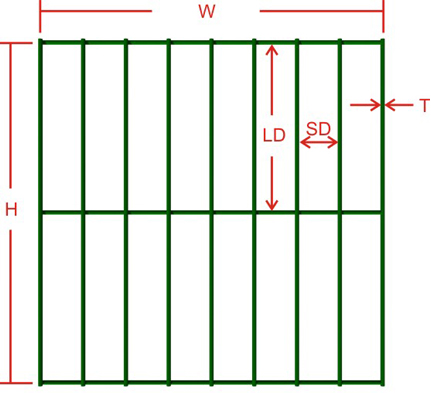 Welded wire mesh fence is actually made by spot welding the intersections of horizontal and vertical wires. The grid pattern produces spacing between 1/2" and 4". The structure creates a solid shell for a solid barrier. This style of fence works well on level ground, as the welds prevent movement. And galvanized to resist weathering, it can withstand wear and tear.
The Main Parameters of Welded Wire Mesh Fence:

W(Fence Width), H(Fence Height),
SD*LD (Opening Size),
T(Wire Thickness).
BZ Wire Mesh provide welded wire mesh fence in various specifications and dimensions, we can also produce the wire mesh fence according to our clients' design, following is the common specifications for the welded wire mesh fence.

Common S

pecifications

f

or Welded Wire Mesh Fence Panels

Mesh Size(mm)

Wire Thickness(mm)

Coating

Mesh Height(mm)

Mesh Length(mm)

50*200

50*100

65*200

3.5

4.0

PVC coating

Galvanized

630

2000-3000

830

2000-3000

1030

2000-3000

1230

2000-3000

3.5

4.0

4.5

5.0

6.0

1430

2000-3000

1530

2000-3000

1730

2000-3000

1830

2000-3000

1930

2000-3000

2030

2000-3000

2230

2000-3000

2430

2000-3000

We can also produce the fence according to clients' requirements
Designs for Welded Wire Mesh Fence



Double Side Wire:

The design of double side wire can create two small gaps in both sides of the fence, it can match with the ear-plate on the post and can be installed easily. The double wire fence is strong and durable and is perfect for industrial areas, stadiums, public buildings, airports, schools and more.



W Bend Fence:

The W bend also called 3D bend, this is one of the commonly used type. There's 3 bends on the top, bottom and middle of the fence, it makes the fence looks more beautiful and has better strength.



Top Bend Fence:

This type of fence has a 30 degree bend on the top, this make the fence more difficult to climb from outer side. It is also a cost effective welded wire fencing solution for schools, residential, public and light industrial applications.



Triangle Rolled Fence:

This type of

welded wire mesh

fence has triangle rolled on the top and bottom, it can increase the stability of the fence and looks more beautiful.
The Posts of Welded Wire Mesh Fence
To install the wire mesh fence, there's three main kinds of posts available. The round post, square post, and the peach post. Clients can choose the posts according to their design. Following is the common specifications of the fence posts.
| | | |
| --- | --- | --- |
| | | |
| Square Post | Round Post | Peach Post |
Normal Specifications For The Wire Mesh Fence Posts

Post Type
Post Size(mm)
Thickness(mm)
Post Height
Remark
Square Post
40*60
1.2-2.0
As required
Common Type
50*50
1.2-2.0
Common Type
60*60
1.2-2.5
Common Type
60*80
2.0-2.5
Strong Type
Round Post
φ48
1.0-3.0
Common Type
φ60
1.0-3.0
Strong Type
Peach Post
50*70
1.2
Common Type
70*100
1.2
Strong Type
We can also produce the post according to clients' requirements
Except the basic types, there are also some special designs for the posts. Also we can produce the posts according to our clients' design. Whether the goal is to keep animals away from a newly planted garden, protect your pets from predators, or fence off an area of your yard with a beautiful fence, BZ wire mesh can meet all your fencing needs.
| | |
| --- | --- |
| | |
| Posts with angle plate to install the razor tape | Posts with bend to install the top bend fence |
The Colorful Wire Mesh Fence
| | | |
| --- | --- | --- |
| | | |
| GREEN | BLACK | YELLOW |
| | | |
| WITHT | GREY | BROWN |
We can also paint the color according to the RAL number provided by our clients.