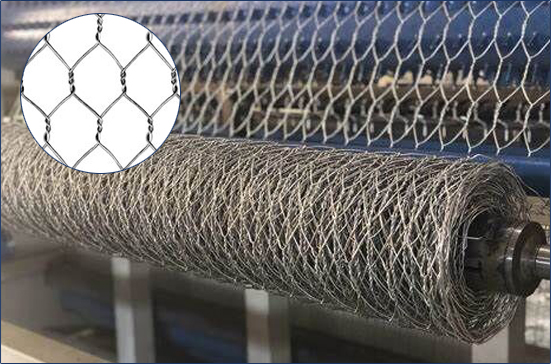 Item:Hexagonal Wire Mesh, Chicken Wire Mesh
Material:Carbon Steel, Stainless Steel, Galvanized Steel,PVC coated wire.
Woven Type:Continuous twist, Double-direction twist
Surface Treatment:Hot-dip galvanizing, Electro-galvanizing, Galfan coating, PVC coating, etc.
Surface Coating Option:
Option1: Surface coating before woven
Option2: Surface coating after woven
Applications:
1.Fixing, heat preservation and insulation of building wall
2.The binding of pipe in power plants and chemical plants , thermal insulation for the boilers.
3.Anti-freezing, residential and landscaping protection
4.Raising chickens and ducks, isolating and protecting poultry houses.
5.Protect and support seawall, hillside, road and bridge and other water and wood works.
| | |
| --- | --- |
| | |
| Continuous twist hexagonal wire mesh | Double-direction twist hexagonal wire mesh |
The wire diameter of hexagonal wire mesh is various according to the mesh apertures, for the galvanized material, the wire diameter is from 0.3mm to 2.0mm, and for the PVC coated material, the wire diameter is from 0.8mm to 2.6mm.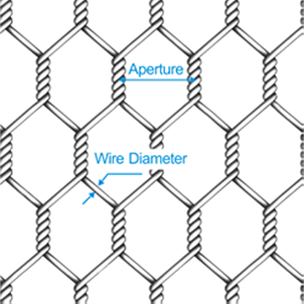 Following is the common specifications of hexagonal wire mesh.
| | | | |
| --- | --- | --- | --- |
| Mesh size | Wire (BWG) | Standard roll height (m) | Roll length (m) |
| 3/8' | BWG27 - BWG24 | 0.50/0.60/0.80/1.00/1.20/1.50/1.80/2.00 | 10 m / 20 m / 30 m / 50 m |
| 1/2' | BWG27 - BWG23 | 0.50/0.60/0.80/1.00/1.20/1.50/1.80/2.00 | 10 m / 20 m / 30 m / 50 m |
| 5/8' | BWG26 - BWG22 | 0.50/0.60/0.80/1.00/1.20/1.50/1.80/2.00 | 10 m / 20 m / 30 m / 50 m |
| 3/4'' | BWG25 - BWG20 | 0.50/0.60/0.80/1.00/1.20/1.50/1.80/2.00 | 10 m / 20 m / 30 m / 50 m |
| 1" | BWG27 - BWG19 | 0.50/0.60/0.80/1.00/1.20/1.50/1.80/2.00 | 10 m / 20 m / 30 m / 50 m |
| 1 1/4" | BWG23 - BWG19 | 0.50/0.60/0.80/1.00/1.20/1.50/1.80/2.00 | 10 m / 20 m / 30 m / 50 m |
| 1 1/2" | BWG23 - BWG19 | 0.50/0.60/0.80/1.00/1.20/1.50/1.80/2.00 | 10 m / 20 m / 30 m / 50 m |
| 2" | BWG23 - BWG19 | 0.50/0.60/0.80/1.00/1.20/1.50/1.80/2.00 | 10 m / 20 m / 30 m / 50 m |
| 2 1/2" | BWG21 - BWG19 | 0.80/1.00/1.20/1.50/1.80/2.00 | 10 m / 20 m / 30 m / 50 m |
| 3" | BWG20 - BWG18 | 1.00/1.20/1.50/1.80/2.00 | 20 m / 30 m / 50 m |
| 4 " | BWG19 - BWG17 | 1.00/1.20/1.50/1.80/2.0 | 20 m / 30 m / 50 m |