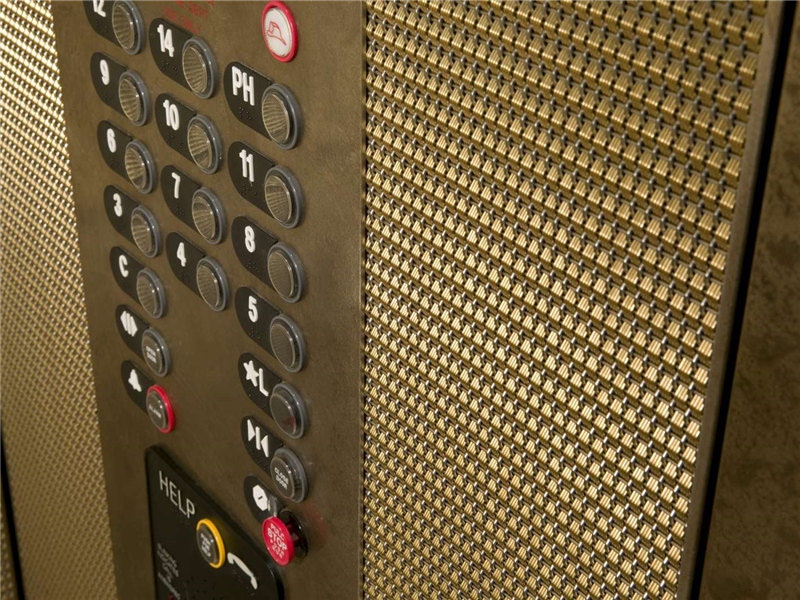 An elevator cab is a box-shaped space used for carrying and transporting passengers and materials within an elevator. The cab typically consists of major components such as the cab bottom, cab walls, cab ceiling, cab doors, with a minimum interior clear height of at least 2 meters.
Elevator Cab Mesh, as the name suggests, is a type of Elevator Cab Decorative Wire Mesh, belonging to the Decorative Metal Mesh category. Elevator decorative metal mesh is composed of metal rods or metal cables woven into various patterns based on the weaving style of the fabric, with horizontal metal rods passing through vertical metal cables. Materials used include stainless steel, corrosion-resistant chromium steel, and other metals. From the structural characteristics of the product, Elevator Cab Mesh falls into the category of Tight Wire Mesh Series.
Elevator decorative mesh is known for its durability, luxurious and high-end appearance, and high technological content. It retains the advantages of metal while being easy to maintain and having a smooth surface that is easy to clean, meeting the demands of designers for style and individuality.

Elevator cab mesh can be the natural color of the metal, or its surface can be treated with elements like gold plating, silver plating, titanium plating, resulting in various colors such as antique bronze, brass, copper, and maroon, among others. Special colors and specifications can be custom processed.
Our company utilizes stainless steel decorative wire mesh material for the decoration of elevator cabs. Compared to traditional elevator decorative materials, this product exhibits a unique metal texture and luster, providing a refreshing visual experience. As a new type of elevator decoration material, elevator cab mesh has garnered significant attention within the industry, thanks to its professional and eco-friendly attributes, and it has gradually matured as a product. It has found application in iconic architectural decoration projects, and it is steadily making its way into the international market.
BZWIREMESH has established long-term partnerships with several elevator manufacturing companies and elevator decoration companies. If you are interested in our products, please feel free to contact us.