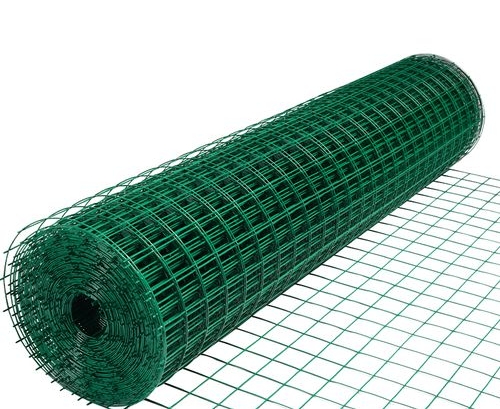 PVC Coated Welded Wire Mesh:
PVC Coated Welded Wire Mesh is a common type of wire mesh product. It is created by welding iron wires, which have undergone prior electroplating and hot-dip processes, and then coating them with PVC powder through a high-temperature automated production line. This mesh finds its primary applications in supermarket shelving, indoor and outdoor decoration, poultry farming, floral fencing, and outdoor perimeter walls for villas and residential communities. It boasts distinct colors, aesthetic appeal, corrosion resistance, rust prevention, colorfastness, and UV resistance. Available color options include dark green, grass blue, black, red, yellow, among others.
- Product Name: PVC Coated Welded Wire Mesh, PVC Coated Wire Mesh
- Manufacturing Process: Precision weaving of black iron wire or galvanized wire
- Key Features: Strong adhesion, excellent corrosion resistance
- Materials: Low-carbon steel wire, PVC wire
Production Process:
PVC Coated Welded Wire Mesh is meticulously woven using black or galvanized wires through machinery. Subsequently, a plastic coating is applied to the wire mesh surface, with PVC, PE, or PP powder undergoing sulfurization treatment before the application. This results in strong adhesion, excellent corrosion resistance, and a glossy appearance.
This product can be incorporated into advanced dual-layer protection systems, delivering exceptional adhesion, vivid coating colors, and full luster. It fully complies with standards such as ASTM F668-99a and ASTM Framework F1063, significantly enhancing the service life of wire mesh products while addressing the issues of unattractive surfaces or susceptibility to corrosion found in plain iron welded wire and galvanized welded wire.
Materials and Specifications:
Materials: Low-carbon steel wire, PVC wire
Specifications: Refer to the PVC Coated Welded Wire Mesh Inventory Specifications Table
Custom specifications are available upon request.
Applications:
Due to its outstanding attributes, including vibrant surface colors, extended lifespan, corrosion resistance, and cost-effectiveness when compared to Stainless Steel Welded Wire Mesh, PVC Coated Wire Mesh is widely employed in various industries. It finds application in areas such as highway fencing, agricultural farming, construction projects, landscape gardening, industrial engineering, transportation, and the mechanical protection sector.
---
BZ WIRE MESH PRODUCTS CO., LTD was founded in 1998, located in Anping, the hometown of metal wire mesh in China. We are a professional manufacturer of metal wire mesh products, and we are working on the production, sales and service of Stainless Steel Wire mesh, Flexible Stainless Steel Cable mesh, Architectural Mesh, Decorative Wire Mesh, Wire Mesh fence and Expanded and Perforated Metal and other metal wire mesh products for many years.
BZ company is following the ISO 9001 and ISO 14001 system during our production and management, and we have the SGS and CE certifications for our company and products.
If you want to know more information about Wire Mesh, please contact us: https://www.bzwiremesh.com/contact-us/ We will provide professional answers.