Heavy Duty Stainless Steel Wire Mesh is also called Crimped Woven Wire Mesh. Stainless steel crimped woven wire mesh is a kind of multipurpose mesh in different materials. The metal wire is crimped first and then woven by the crimped wire mesh machine. The crimp type can be divided into Intermediate Crimped, Flat top Crimped, Pre-crimped Woven, and Lock Crimped.
Stainless steel crimped woven wire mesh has two main types, first is plain-woven stainless steel crimped mesh, and the other one is intermediate crimp stainless steel crimped mesh. The plain woven means that there is no corrugation in a mesh hole, and the intermediate crimp means there are 1 or more corrugations in a hole. The plain woven is mainly used for the mesh with large wire diameter and small mesh size, and the intermediate crimp is usually used to produce the mesh with a large hole size and small wire diameter.
Compared to the material, woven craft, and usages, there are not too many differences between plain woven and intermediate crimp, and they can instead each other. If we want to tell the difference in detail, the plain woven mesh will be softer than intermediate crimp mesh and has better abrasion resistance. According to this, we can decide which type to be used for different applications.
According to the material, the crimped woven wire mesh can be divided into galvanized steel mesh, carbon steel mesh, iron steel mesh. It can also be divided into mining screen mesh, feeding screen mesh, granary mesh, and Decorative Wire Mesh.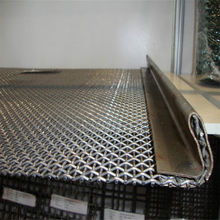 Heavy Duty Woven Wire Mesh has a width range from 1 to 8 meters. It has a very stable structure and is very also very tough, mainly used in the Mining, Architecture, Petrochemical Industry, Machinery. And the mesh types are various according to the material, wire diameter, and mesh opening size.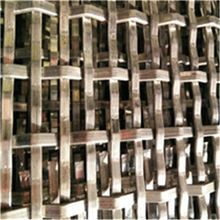 Following is the normal specifications of the Heavy Duty Stainless Steel Wire Mesh
| | | | | |
| --- | --- | --- | --- | --- |
| Gauge | Wire Diameter(mm) | Mesh Count | Mesh Size(mm) | Weight(Kg/m2) |
| 14 | 2.0 | 21 | 1 | 4.2 |
| 8 | 4.05 | 18 | 1 | 15 |
| 25 | 0.50 | 20 | 0.61 | 2.6 |
| 23 | 0.61 | 18 | 0.8 | 3.4 |
| 24 | 0.55 | 16 | 0.1 | 2.5 |
| 24 | 0.55 | 14 | 0.12 | 4 |
| 22 | 0.71 | 12 | 0.14 | 2.94 |
| 19 | 1 | 2.3 | 0.18 | 1.45 |
| 6 | 4.8 | 1.2 | 2 | 20 |
| 6 | 4.8 | 1 | 2 | 20 |
| 6 | 4.8 | 0.7 | 3 | 14 |
| 14 | 2.0 | 5.08 | 0.3 | 12 |
| 14 | 2.0 | 2.1 | 1 | 2.5 |
| 14 | 2.0 | 3.6 | 1.5 | 1.9 |
Following is the weight formula to calculate the weight of Heavy Duty Stainless Steel Wire Mesh
25.4/(Wire Diameter*Mesh Size)=Mesh Count
Mesh Count*Wire Diameter* Wire Diameter*Mesh Width*Mesh Length/2+2%~6%~9% (Curvature)=Weight(Kg)