Stainless steel cable mesh is a flexible metal mesh with a diamond mesh that is formed by a special process and a plurality of stainless steel wire ropes which are linked by interlacing and knotting. Stainless steel cable mesh is a creative product with excellent stretch elasticity and flexibility.
Its excellent performance is super strong, lightweight, soft and elastic, corrosion-resistant, and non-rust.
These characteristics make it shine in the application of animal meshes. Our customers usually call it zoo mesh. (other names: zoo net, flexible metal netting, stainless steel wire rope mesh, hand-woven stainless steel wire rope mesh, cable ferrule mesh, cable woven mesh, Webnet, wire woven mesh, zoo enclosure mesh.)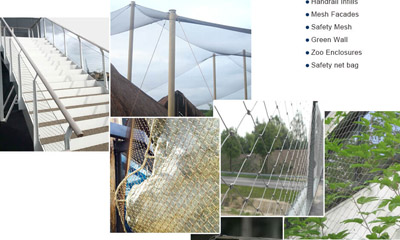 Applications of Stainless Steel Cable Mesh
Flexible stainless steel cable mesh can be used both indoors and outdoors. It is mainly used for building materials in animal cages, large bird aviary, animal enclosure mesh, railing filler, greenery system, bridge protection mesh, and stadium fence mesh, and so on.
Stainless steel cable mesh is ideal for use in zoo mesh applications. The sturdy and unobtrusive protective meshes are used in animal cages to give the public a better viewing experience. (Consequently is ideally suited for strong and unobtrusive protective nets as well as for animal enclosures in zoo applications because it is easier to see through it when viewing the animals.)
BZ Wire Mesh plant has been manufacturing the product since 1990. The plant's independently developed equipment and skilled technique can ensure high-quality products and sound service worldwide.
We believe that stainless steel woven mesh has a unique advantage that other products can't match, and has a more promising future.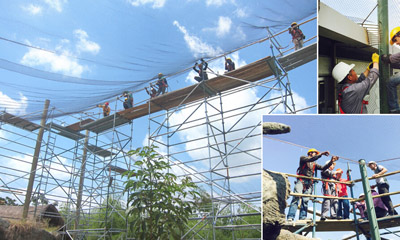 Stainless Steel Cable Mesh Installation
Stainless steel cable mesh installation
The installation of the stainless steel cable mesh is much easier than you might expect and requires only a minimum of tools.
The flexible metal netting panel arrives in front of you in precise dimensions. Only need to follow the installation instructions and use a wire rope to firmly wrap the edge of the mesh onto the frame or support structure to tighten the mesh.
In the case of large structures (such as zoo enclosures), matching frames and meshes in order and according to actual conditions is the key to success. Ensure that the mesh has a uniform focus so that the correct tension to maintain the overall structure is safe, beautiful, and durable.
All in all, the precise custom mesh size makes the installation work simple and effective, avoiding the problems that need to be cropped. The bigger the project, the more you can save on your expenses.

Stainless Steel Cable Mesh Design
Design consultation
BZ Wire Mesh can help our clients on the design stage, we can provide suggestions about the design and installation, offer our clients suitable installation options.
Installed elements
BZ Wire Mesh can provide the mesh fixed with the frame or other elements as required, this can make the mesh easier to be installed and reduce the installation time.
Accessories and tools
BZ Wire Mesh can provide various accessories and tools to our clients according to different installation options.
Installation guidance service
BZ Wire Mesh has a professional team to guide the installation on our clients' construction site when necessary.
If you want to get more information about the best stainless steel cable mesh, welcome to contact us today or request a quote.