One of the main safety features of a staircase is the handrails and railings, which help prevent falls and injuries. These staircase parts can be made of different materials, such as metal, wood, or glass, to achieve different visual effects. The type of stair railing and the type of handrail used will also impact the appearance of the staircase.
Handrail vs railing: what's the difference?
Handrail and railing are two staircase parts that often get confused.
A handrail, also called a banister, is the part of the staircase that people hold onto for support when going up and down the stairs. The hand railing for stairs must provide stability and a continuous guide along the stair. A handrail can be made of a variety of materials. It can either be attached to a wall, extend from the side of the stair rail, or sit on top of the balusters (vertical posts) on the open side of a staircase.
A railing is a barrier that prevents people from falling off the side of the stairs. Staircase railings must be strong enough to resist breaking if someone falls or pushes on them. Railings for stairs can also be made of a variety of materials and can be fashioned in different styles from a series of simple vertical posts which form a balustrade to a modern cable railing.
What is the best material for stair handrails and railings?
The best material for stair handrails and railings depends on the environment of the staircase and the desired look.
A range of options
A variety of railing infill options are available, providing flexibility to meet individual project requirements.
Stainless steel cable infill (horizontal and vertical) is often chosen for residential and commercial spaces due to its minimalist, streamlined appearance and ability to maintain views. Highly durable, weather-resistant, and low-maintenance, cable infill can be used with wood, metal, and composite sleeve railings in a variety of architectural styles from rustic to transitional to contemporary.
As with cable infill, clear or custom-tinted tempered glass panels provide a stylish look while also offering visually unobstructed views. While this type of infill can create the illusion of no railings, it does require regular cleaning to ensure the clearest possible view. In addition, vertical pile infill is often used in exterior spaces and can provide an attractive railing solution, although it does not offer the open aesthetic provided by cable or glass infill.
When considering stainless steel wire mesh panels, architects should look for options made of marine-grade, corrosion-resistant 316-grade stainless steel for long-term durability.
Laser-cut pattern panel infills made of powder-coated aluminum are particularly versatile. Some manufacturers offer the ability to incorporate custom designs in their aluminum panels for a unique look. It's important to ensure the panels meet AAMA 2604 specifications to help ensure corrosion resistance and color retention.
For more information about the different types of stair railings, welcome to contact us today or request a quote.
BZWIREMESH provides the following mesh series which are suitable to be used as handrail infill and safety mesh.
Flexible Stainless Steel Cable Mesh
Flexible stainless steel cable mesh is produced by a high-quality stainless steel rope and the mesh includes the inter-woven type and ferrule type. The ferrule type stainless steel cable mesh is more often used as handrail infill mesh. Because of the flexibility of the mesh, it can fit with the spiral staircase, suspension bridge, and other sections with irregular shapes. And because the stainless steel cable mesh has good strength and shock resistance, it is also the best material used as safety mesh.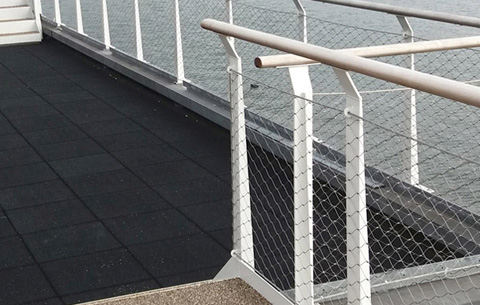 Decorative Woven Wire Mesh
The decorative woven wire mesh has many patterns and types, and the mesh surface is very tough making it to be a good material for handrail infill. The decorative woven mesh is mostly produced in panels, and it is easy for deep processing. The various pattern of the mesh provides numerous choices for the architect.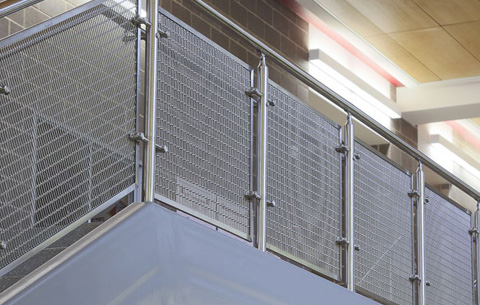 Decorative Perforated Metal
Decorative perforated metal is produced by a whole metal plate by punching or laser cutting process, the hole shapes a various and the pattern can be customized. And it is also a good material to be used as a handrail infill. The decorative perforated metal is tough and durable, can be treated in various colors, also easy for deep processing.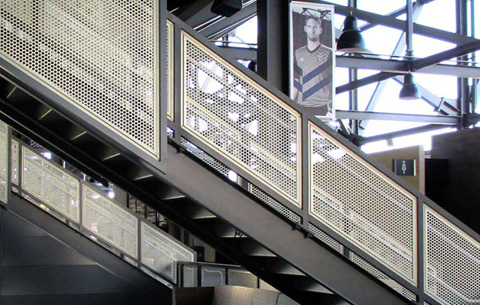 Decorative Expanded Metal
Decorative expanded metal is a kind of commonly used material as handrail infill, the decorative expanded has lightweight and good strength. And the hole shapes are also various to match different building styles. The surface treatment of expanded mesh can be PVC coating or fluorocarbon coating, various colors can be chosen. The expanded mesh is also easy for cutting, framing, bending or welding process, to make the mesh into the assembly as required.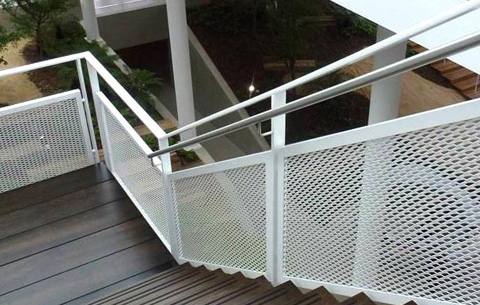 With so many stylish and versatile railing infill options, the design possibilities are almost limitless. Make sure to learn as much as you can about each option and don't be afraid to ask the manufacturer for assistance.
As a handrail supplier, BZWIREMESH will be happy to help you out!
Contact us at +86 312 590 7069 / +86 318 769 1559
+86 155 1129 3350 or write to us at [email protected]
Visit https://www.bzwiremesh.com for more information.