There are several reasons why building an outdoor aviary is a good choice for your birds. It ensures that birds have access to fresh air, and light and are protected.

You can build an aviary that keeps birds secure and safe. The mesh prevents animals from entering the enclosure and is easy to maintain and clean. The mesh for small birds can be used for cages to confine lovebirds and keep predators away.
Aviary wire mesh is manufactured specifically for large cages. The mesh is made of durable metal and the hexagonal or square shape provides the perfect perching and climbing material. Wire mesh sizes vary, so select the smaller diameter mesh to contain the smallest birds. When selecting aviary wire mesh, look for powder-coated or vinyl-coated wire and avoid wire containing sharp barbs as well as plain galvanized metal.
Not all types of wire mesh are created equal. Some metal mesh is made from stainless steel or wrought iron, some galvanized metal, and other coated metals. Stainless steel is the best wire mesh for bird cages because it resists bacterial growth and rusting and is free of minerals that are toxic to birds. Cooked iron is safe, but this material can corrode and is heavy. However, stainless steel and iron mesh can be expensive, so many bird owners choose the more affordable material of galvanized mesh.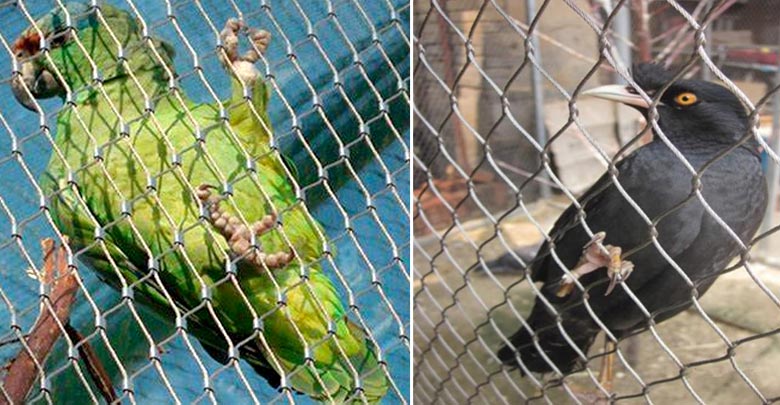 Flexible Stainless Steel Cable Mesh
Galvanized metal contains zinc. This metal is used for outdoor projects because the zinc plating is resistant to corrosion. Prolonged exposure to heavy metals such as zinc, lead or tin can build up in the bird's body, causing symptoms such as cyanosis, feather plucking, liver dysfunction, and, in severe cases, death. Some owners use a vinegar solution to clean galvanized metal screens to remove zinc flakes from the metal, while others avoid galvanized metal altogether.
Some aviary wire mesh is made of inexpensive metal dipped in vinyl or coated with a special paint (called powder-coat). This mesh is very durable and prevents possible poisoning of birds. Birds may still chew on the coating or the coating may wear away from outdoor exposure. Once the coating tears or holes appear, the mesh can become a breeding ground for bacteria and corrosion.
Aviary wire mesh is usually made of smooth metal. You should always check to ensure that the mesh is tight and welded. Small barbs or nicks in the joints or wire can snag a bird's sensitive feet and cause bleeding. Look for wire products from a reputable aviary wire mesh manufacturer. Such Aviary wire mesh manufacturers usually want to maintain a good reputation and will therefore make a quality product and be more likely to answer consumer concerns.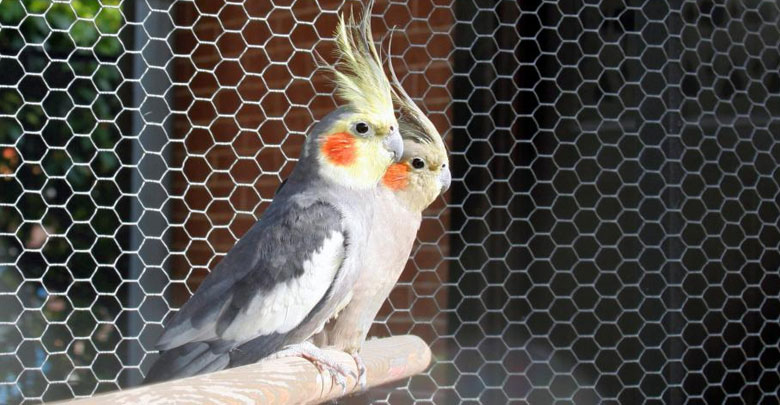 Hexagonal Wire Mesh
Planning process.
Determine the type of cage you plan to build.
Choose the materials. Decide if the cage should be free-standing (in which case you will need legs), if you want it to hang from the ceiling or if you want to put it on some sort of stand (in which case you do not need legs).
For a bird like a macaw, plan a larger cage, i.e.
- 40 inches wide x 40 inches long x 48 inches high
Small to medium cage - for smaller birds i.e.
- 18 inches wide x 18 inches long x 18 inches high (minimum size for very small birds only)
- 28 inches wide x 28 inches long x 32 inches high (preferred - even larger)
Mainly related to outdoor cages/ aviaries: when building a bird cage you need to consider keeping wildlife out. The outside cage must be very sturdy. Considering the local weather conditions, you need to provide adequate shelter: your birds need shade and protection from bad weather in the summer, including possible heat in the winter if it gets cold in your area.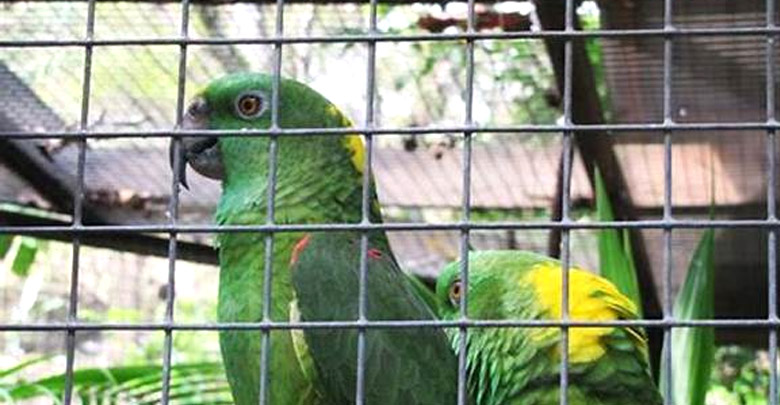 Welded Wire Mesh
Protection from predators, such as raccoons, rats, and snakes:
To keep predators out, it is recommended to place an outer layer (consisting of cheaper wiring - or plastic panels) to prevent them from entering or approaching your birds. Raccoons in particular can reach in with their finger-like claws (as they like to do) - the birds become frightened and delightful in the aviary - and eventually land on the floor. Eventually, the raccoon can grab it and pull the poor parrot close enough to basically pull out the chunk piece by piece. This can also happen when you place your parrot outside in a regular cage or a hanging cage. Hanging cages allow raccoons easy access through the floor grate.
Plastic netting is definitely not a good choice for an outer barrier. Predators can easily tear through it and larger parrots may chew holes in it. It is recommended to use at least 14 gauge 1" x 1" grid wire. 16 gauge will probably work for most parrots; although for larger parrots you will need a stronger wire as they may chew on it.
Find a reliable bird cage wire panel supplier
At BZ WIRE MESH, we bring you a broad range of bird aviary mesh suitable for both indoor and outdoor use. With our superior selection of bird aviary mesh panels, you can create secure spaces for both smaller and larger birds.
The high-grade of our aviary mesh ensures that you are able to build the perfect structure for your birds. We have options in different wire thicknesses that can be used to create bespoke enclosures. View our range today and we are confident that you will find a suitable bird wire mesh.
Find Out More
We bring you a superior selection of aviary wire mesh that is easy to install and expertly engineered to stand the test of time.
For more information about the high-quality bird cage wire mesh, welcome to contact us at +86 312 590 7069 / +86 318 769 1559/+86 155 1129 3350 or write to us at [email protected] We will be happy to help you out!