Expanded metal is a type of sheet metal that has been cut and stretched to form a regular pattern (often diamond-shaped) of a metal mesh-like material. It is commonly used for fences and grates, and as metallic lath to support plaster or stucco.
As the metal expands, the cuts stretch out. This creates a uniform grid design. As the metal thins, the slit becomes a hole in the sheet.
Depending on your application and preference, you can use this process to create different shapes of mesh. While the diamond cut is probably the most common choice here, you can also use shapes such as circles, ovals, squares, and hexagons.

Decorative Expanded Metal Panel
What are the advantages of using expanded metal?
1. Anti-slip
The knuckles formed by the expanded mesh give the material a strong grip: this is particularly useful when constructing stair treads, ramps and walkways. We have also developed a range of specialist anti-slip walkway meshes.
2. Composite substrates
Expanded metal mesh can be used in combination with other materials to add strength and flexibility to the product. For example, glass, plastic, and other composite materials can be combined into or attached to the mesh for added strength and safety, or for aesthetic properties.
3. Lightweight strength
Expanded metal sheets are relatively light. During the expansion process the sheet thins; it loses some relative weight. However, this does not mean that you sacrifice its strength.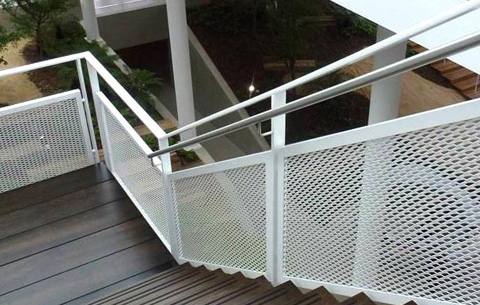 The expanded metal sheet is strong and durable. It is manufactured in one piece, so it does not lose any of its integrity. Unlike woven mesh or sheets with connecting joints, you don't have any weak areas.
Nor will you remove any metal from the sheet as you would if you were to perforate it. If you carefully design and adjust the sheet size and cutting angle, you can create a product strong enough to be used as a walkway and grille.
4. Reducing costs
If you reduce waste, then you can also reduce manufacturing costs. This is especially important if you are using more expensive metals. If you use expanded metal mesh, then you will use up all your sheets. You won't lose any metal in the perforation process.
Your base material costs will also be lower. If you don't waste any material in the manufacturing process then you can use less. The extension process increases the size of the sheet significantly. A sheet of paper can be stretched to create a larger area. Your metal goes further.
5. Made from one piece of material
Expanded metal mesh is made from one piece of material, which means that there is nothing loose, no micro-movement strands or strained joints or welds. The homogeneous design of the porous metal mesh makes it an inherently strong material that can be used for a wide range of components.
In addition, because it is made from a single piece of material, the metal mesh is ideally suited to forming and can be easily processed further, for example by pressing and shearing.
6. Greater design flexibility
Molding expanded metal into specific applications and designs is often easier. For example, if you want to allow maximum light and air to pass through then you can use a larger cutout to create a larger gap. This is not always possible with perforated panels. If your perforation is too large and there is not enough holding metal around it, you may weaken a sheet of paper.
You can also be more flexible with the cutting angle. For example, if you want to make a non-slip pavement, you can create an angle that provides a grip. If you want a smoother surface, for example when making baskets or strainers, you can flatten the sheet to remove rough areas.
The expanded metal mesh size and plate thickness range are very wide, and there are various specifications available. The common range of plate thickness of expanded mesh that BZWIREMESH produced is from 0.5mm~6mm, and the opening size is from 3*6mm to 56*150mm, which can meet various application requirements from our clients.
For further technical information about expanded metal talk with our specialist or visit our website https://www.bzwiremesh.com. We can help you to identify the best solution for your application.